Human ecosystem interactions alter vertebrate body size
Human ecosystem interactions alter vertebrate body size by disrupting the U-shaped pattern between body size and diet where herbivores and carnivores have larger size than insectivores and omnivores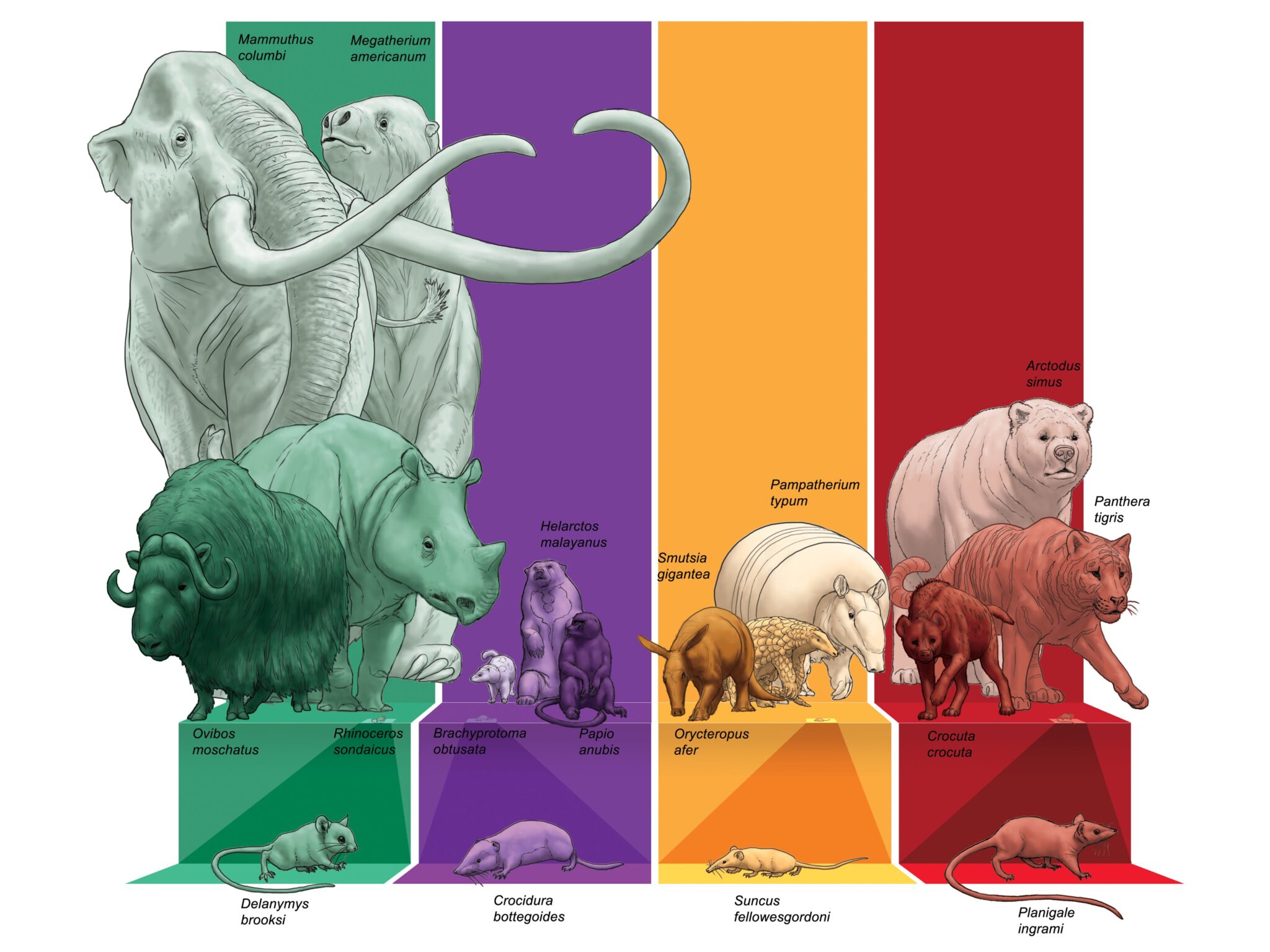 Human ecosystem interactions alter vertebrate body size by disrupting the U-shaped pattern between body size and diet where herbivores and carnivores have larger size than insectivores and omnivores.
Organisms are substantially shaped by diet and body size. Diet constraints the energy that is available for metabolism, growth, survival, and reproduction, the most basic functions of any organism.
This U-shaped relationship between body size and diet can be explained by many factors.
Herbivores in general have nutrient-poor diet so they tend to be large to have a wider range to forage and also need a large and complex digestive system to maximize nutrient extraction. Carnivores must be large enough to hunt the large herbivores.
 On the other hand, insectivores eat small high rich protein prey, thus not needing large bodies, and generalist omnivores that switch between diets depending on food availability do not need to be as big as herbivores and carnivores.
The authors of this paper found out that this U-shaped pattern of trophic guilds between body size and diet is near-universal across 24,000+ vertebrate species – mammals, birds, reptiles and saltwater fish – and across global ecosystems, from rainforests, to deserts.
Megabiota, the largest animals and plants on the planet, are disproportionately important for biosphere functioning, but they are the more prone to extinction due to human land use, hunting, and climate change.
The loss of megabiota has a negative impact on ecosystem functioning. Past downsizing of terrestrial herbivores driven by the extinction of larger species has previously altered ecosystems by reducing seed dispersal distances, modifying fire regimes and transforming vegetation structure.

The authors found that the U-shaped diet-body size pattern has been changing since the last ice age due to the extinction of many of the large mammals such as Mammoths and Ground Sloths, and probably some of this extinctions were due to anthropogenic disruptions.
The average size since the last ice age of mammalian herbivores has decreased by 100-times and of carnivores by 10-times.
The authors predict that this trend will continue due to relentless anthropogenic disruption, thus most of the remaining large mammals would also go extinct in the near future.
If this holds true, most of the mammals species left would be outsized by the domesticated animals such as horses and cows.
These extinctions could have unpredictable consequences for both wildlife and humans, disrupting the U-shape, and with potential impacts on seed dispersal, vegetation structure, nutrient cycling and fire cycles.
There is still a change to stop this madness and protect some of this remaining magnificent large vertebrate species through habitat restoration, animal conservation, and actions to limit climate change.
Anthropogenic disruptions to longstanding patterns of trophic-size structure in vertebrates
The megabiota are disproportionately important for biosphere functioning